Stouffer continues its tradition of developing new, innovative products for many industries. As traditional means of photosensitive imaging evolve into the growing world of digital imaging, Stouffer also evolves. The R2110CLC Reflection Color Calibrated Guide incorporates traditional with digital imaging by offering optical density CMYK and L*a*b readings in calibrated documentation. By using calibrated data it becomes easy to create a workable reference for Levels and/or Curves in photo-editing software.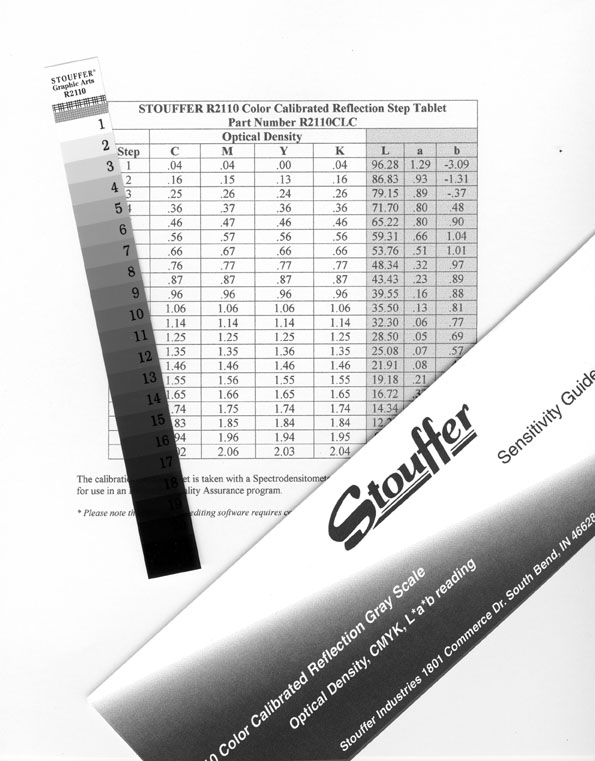 Stouffer...
Evolving with the Industry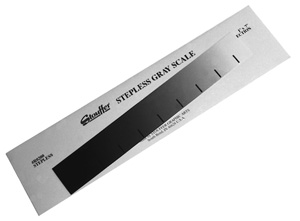 Stouffer Scanner Scales are available in a variety of formats for use on flat-bed or drum scanners. Guides are made in many sizes, stepped or stepless, black and white, transmission or reflection. Resolution patterns can be added to some scales. One of the most popular guides used is the R3705 37 Step Scanner Scale with density increments of .05 optical density. The TP35-21 Step Guide is also popular for it's versatility with film scanners such as the Nikon Coolscan product line.
Stouffer has also redesigned its Transmission Resolution Guide, adding even more precision and accuracy than before. The 1-T Resolution Guide is now calibrated in inches and millimeters. It can be used for checking and measuring the lpmm (line pairs per millimeter) or lpi (line pairs per inch) resolution of scanners, lens, films, plates and many other applications.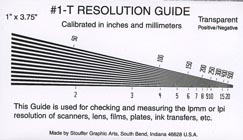 Following specifications adapted from SMPTE Recommended Practice RP 133-1986, Stouffer has designed a Hard Copy Diagnostic Imaging Test Pattern. For critical diagnostic testing of your equipment, inquire about this unique scanning target. The SMPTE target is a special order item.