Regardless of the many variables encountered in exposure and processing, the Cameraman's 12-Step Guide helps produce line negatives of consistent quality, density and line fidelity. After development it tells upon inspection whether line negatives are up to a given standard, and if not, how much correction should be made.
Screening the guide with halftones lets the user evaluate highlight, mid-tone, and shadow dots from discreet values of gray, and indicates what adjustments to make to get the detail desired. Two crosshatch patterns (50 and 250-line) serve as a check for accurate focus and resolution.
Stouffer...
The Standard
of excellence since 1929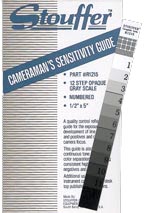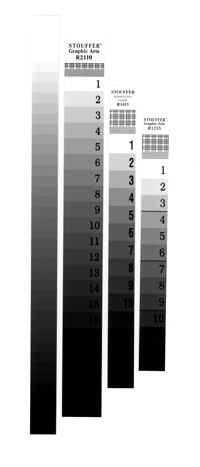 The Cameraman's 12-Step Guide is designed primarily for copy camera use. Like other Stouffer Reflection Step Tablets, it can also be used for scanning, densitometry, and other quality control applications. The list below contains the most commonly used step tablets.
| | | | | | |
| --- | --- | --- | --- | --- | --- |
| Part Number | Steps | Density Increment | F-Stop Equiv. | Dmax | Size |
| R1215 | 12 | .15 | 1/2 | 2.05 | 1/2 x 5" |
| R1415 | 14 | .15 | 1/2 | 2.05 | 1/2 x 5 3/4" |
| R2110 | 21 | .10 | 1/3 | 2.05 | 3/4 x 7" |
| R3705 | 37 | .05 | 1/6 | 1.85 | 1/2 x 8" |
| R550 | 5 | .50 | na | 2.05 | 2" x 4" |